The Critics Love [PORTO]!
New Yorker
[Porto]
The setting of Kate Benson's piece is a "serious" neighborhood bar, the kind with Edison lamps, a tin ceiling, foie gras, and a preposterously arrogant bartender (Noel Joseph Allain). The protagonist (Julia Sirna-Frest) is referred to as Porto, and she really doesn't mean to drink alone there as often as she does. We learn all this—and much else, including a detailed recipe for sausage—by way of an invisible, omniscient, and wonderfully effective and immersive narrator (voiced beautifully by Benson), who offers a sharp-witted portrait of a woman paralyzed on her bar stool by book-fuelled ethical concerns. It all culminates in an uproarious imagined debate between Gloria Steinem and Simone de Beauvoir over how Porto should treat her one-night stand the morning after…[read original]
New York Times
'[Porto]' Features a Bar Regular Looking for Love
By Laura Collins-Hughes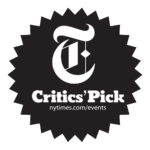 The Edison lights are a tipoff, glowing amber above the L-shaped, dark-wood bar. Also the foie gras sausage on the menu, and the snacks for nibbling: fried chickpeas, jerky popcorn. And no, that is not jerky as in beef.
"Venison," the waiter says. "Duh."
This neighborhood spot, in gentrifying Brooklyn, is "a boushy bar," the unseen narrator tells us in Kate Benson's stealthily ferocious, comfortingly hopeful, very funny new play, "[Porto]." The term "boushy" is a portmanteau, related to "bougie."
Its ridiculous pretensions notwithstanding, the place is a kind of refuge for Porto (Julia Sirna-Frest), who would really like to be leading a healthier life in a slimmer body: less indulgence, more moderation.
But the warmly lit bar promises company and conversation. And the main voice in Porto's head — a.k.a. the narrator (Ms. Benson), who wields a godlike influence — makes a compelling argument involving the actress Lillie Langtry, who, in the early 1900s, sued Keens Steakhouse to force it to admit women. "So really," the narrator says. "You sitting alone at the bar: A feminist act. Do it." Porto does…[continue reading]
New York Magazine

[PORTO] Gets the Urban Millennial Woman Exactly
By Sara Holdren
I am a Brooklyn-dwelling, 30-something white woman sitting in a hip Brooklyn coffee shop to write about a play about a Brooklyn-dwelling, 30-something white woman that takes place in a hip Brooklyn bar. It gets worse. I just ate avocado toast.
If you're put off by the above, I don't blame you. (And honestly, the toast was only okay; I know, I know, I should just make it at home.) You might be feeling like I was as I walked into Kate Benson's [PORTO] at the Women's Project, a play that bills itself as "an upside-down romantic comedy" about a regular in a "serious" bar — "a staple of a gentrifying Brooklyn neighborhood." I admit to squirming slightly as I took my seat: It all felt a touch solipsistic. But you — and I — would be wrong to let our doubts win the day. [PORTO] sneaks up on you: For all its hyper-self-awareness, it's ultimately a play about learning to look out rather than always, always in. It's a smart, surprising ode to the modern woman's anxious, circuitous quest for simultaneous self-actualization, pleasure, and perhaps even love — an examination of the conditioning we receive, the ways in which we wake up to it (or don't), and what we decide to do about it…[continue reading]
Time Out New York
By Helen Shaw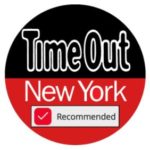 Playwright Kate Benson and director Lee Sunday Evans, who scored in 2015 with the sports-infused American-family spectacle A Beautiful Day in November on the Banks of the Greatest of the Great Lakes, reteam for this feel-weird comedy that exposes the underbelly of meet-cute romance. Benson likes to play with metanarration, and here she provides stage directions in a voiceover that sometimes seems audible to the characters. While presenting as adorable, the show also forces us to feel revulsion at our basic pleasures, whether that means bacon or sex or company. After a festival run last year, the piece now returns for a full encore engagement…[continue reading]
Theatermania
An Enticing Voice Emerges from the Darkness in [PORTO]
By Zachary Stewart
Boushy, we learn in the opening moments of Kate Benson's [PORTO], is a hybrid of the words "bourgeois" and "douchey," and it describes any number of bars in recently gentrified American cities. They are to Bushwick (where the play originated a year ago) what churches are to Rome — ubiquitous and, to the foodie faithful, sacred. Of course, there are plenty of boushy bars on Manhattan's Upper West Side, where [PORTO] is making its triumphant return in an enhanced production by WP Theater and the Bushwick Starr, in association with New Georges. You might even enjoy a pre-theater drink at one before viewing this comedy that dissects its audience with uncomfortable and uproarious precision…[continue reading]