2014 Women of Achievement Awards Gala
Each year, Women's Project Theater recognizes the extraordinary accomplishments of women from the worlds of entertainment, business and philanthropy at the Women of Achievement Awards Gala.
Over the past 28 years, WP Theater has paid homage to luminaries such as Gloria Steinem, Audra McDonald, Eve Ensler, Estelle Parsons, Whoopi Goldberg, Lucia Hwong Gordon, Vanessa Redgrave, and Chita Rivera, to name but a few.
The 2014 Women of Achievement Awards Gala was held at Mandarin Oriental, New York, on Monday, March 10, 2014.
HONOREES
Sharon Bush
Arianna Huffington
Joan Vail Thorne
SPECIAL GUESTS
Ashley Bush, Veanne Cox, Desiree Gruber, Morgan James, Pamela Morgan, Joel Perez, David Hyde Pierce, & Doug Wamble
With a special musical tribute to the legendary Dorothy Fields
2014 Women of Achievement Sharon Bush, Arianna Huffington, and Joan Vail Thorne, and Gala Chair/2009 Woman of Achievement Lucia Hwong Gordon.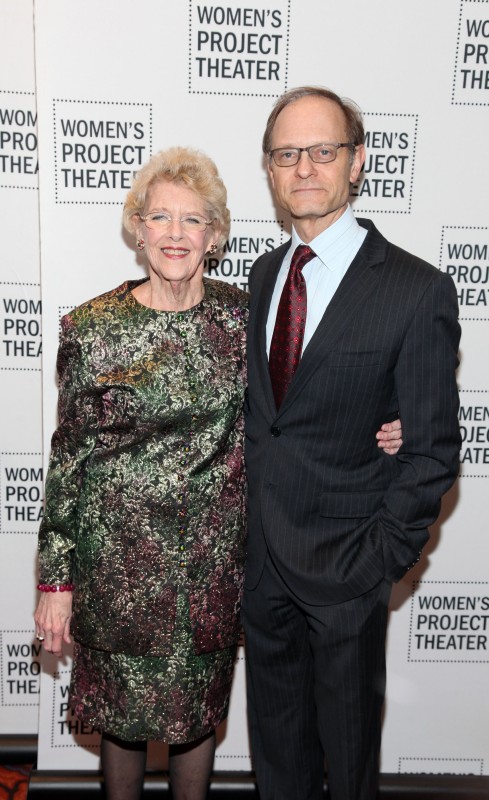 2014 Woman of Achievement Joan Vail Thorne and Presenter David Hyde Pierce.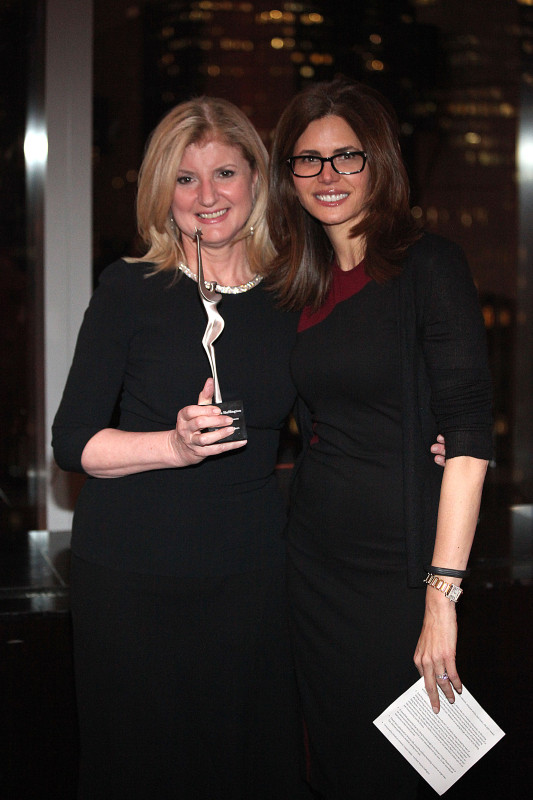 2014 Woman of Achievement Arianna Huffington and Presenter Desiree Gruber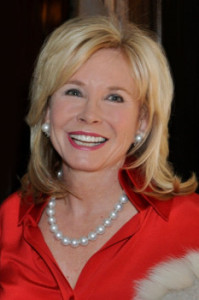 SHARON BUSH (Honoree), philanthropist and child advocate. A former teacher Sharon is the CEO and founder of Teddy Share a charitable organization formed to help end child hunger through the sale of its products. She is a founding board member of Kipp Academy (Knowledge is Power Program).  Sharon was instrumental in fundraising and helping build this school system for underprivileged children around the country from one school to fourty-five schools. She was named national mother of year in 2001 with Jane Seymour and Nancy Kerrigan. In 2013, Sharon received a second national award –the Mother Hale Award– from the New York City Hale House. She was the Founder and President of the Karitas Foundation, formed to raise funds for children's causes nationally. She ran this organization for 12 years when her father-in-law George Bush Senior was Vice President and President. Sharon is also a former board member of the Houston Child Abuse Prevention Network. She raised substantial funds for Special Olympics, as well as serving as a founding board member of Dress for Success Houston. Sharon graduated from the University of New Hampshire with a BS in Elementary Education.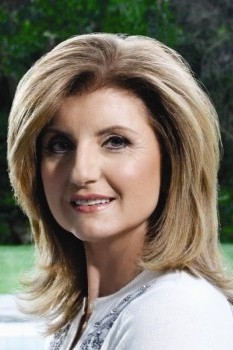 ARIANNA HUFFINGTON (Honoree) is the chair, president, and editor-in-chief of the Huffington Post Media Group, a nationally syndicated columnist, and author of thirteen books.  In May 2005, she launched The Huffington Post, a news and blog site that quickly became one of the most widely-read, linked to, and frequently-cited media brands on the Internet. In 2012, the site won a Pulitzer Prize for national reporting.  In 2013, she was named to the Forbes Most Powerful Women list. In 2006, and again in 2011, she was named to the Time 100, Time Magazine's list of the world's 100 most influential people.  Originally from Greece, she moved to England when she was 16 and graduated from Cambridge University with an M.A. in economics. At 21, she became president of the famed debating society, the Cambridge Union.  She serves on several boards, including EL PAÍS, PRISA, the Center for Public Integrity, and the Committee to Protect Journalists.  Her 14th book, THRIVE: The Third Metric to Redefining Success and Creating a Life of Well-Being, Wisdom, and Wonder will be published by Crown in March 2014.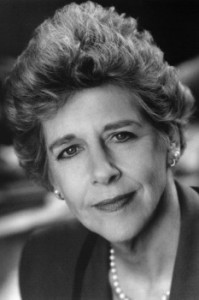 JOAN VAIL THORNE (Honoree): Upon returning from a year of study on a Fulbright Grant in the United Kingdom, Joan Vail Thorne began her professional directing career at Arena Stage in Washington, DC.  She continued to direct at regional theatres throughout the country, and served as Assistant Director to the esteemed American director, Alan Schneider, on Broadway.  She also directed at numerous Off Broadway theaters, foremost among them, The Women's Project.  Ms. Thorne is also a playwright, screenwriter and librettist.  As a playwright she is best known for her play, The Exact Center of the Universe, which premiered at The Women's Project with Frances Sternhagen in the starring role and then reopened for a commercial run Off Broadway.  Her play, The Things You Least Expect, premiered at the George Street Playhouse.  Both plays are published by Dramatists Play Service.  She has won the Southern Playwrights Festival, the Southern Theatre Festival and the Sarett/Cawford Awards. She has written two libretti and three texts for narrator and orchestra with the composer, Stephen Paulus, and a third libretto with composer, Linda Tutas Haugen.  Two of her screenplays were commissioned by the Corporation for Public Broadcasting for American Playhouse, and she has both written and directed two short films, Last Rites, shown on PBS and Secrets, shown on Cinemax.  Ms. Thorne has served on the faculties of The Juilliard School, Pace University and Playwrights Horizons Theatre School, a studio of The Tisch School of the Arts of NYU, where she currently teaches directing.  She was President of the Board of Plays for Living and Vice President of the Board of The Women's Project, and she is a Founding Director of History Matters/Back to the Future.  She won the Distinguished Alumna Award of Sweet Briar College. Ms. Thorne is a member of ASCAP, the Dramatists Guild, the Society of Directors and Choreographers, the Lotos Club, the Usual Suspects of New York Theatre Workshop and Women's Project.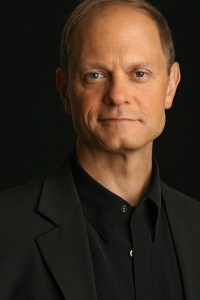 DAVID HYDE PIERCE (Special Presenter) is an Emmy and Tony Award winning actor perhaps best known for his work on TV's iconic comedy series, Frasier. For his portrayal of Dr. Niles Crane, Mr. Pierce was nominated for an Emmy Award for Best Supporting Actor for a record eleven consecutive years, every year of the sitcom's run, earning him four Emmy Awards, among many other accolades. Mr. Pierce won a Tony Award, and was nominated for a Drama Desk Award, for his role in the musical comedy Curtains. He made his professional and Broadway debut in 1982 in Christopher Durang's Beyond Therapy. Since then, his prolific theatre credits include  Beyond Therapy, That's it Folks!, The Author's Voice, Elliot Loves, The Heidi Chronicles, Monty Python's Spamalot, and The Landing. Mr. Pierce's directing credits include It Shoulda Been You, The Importance of Being Earnest, and this year, a new production of Vanya and Sonia and Masha and Spike at the Mark Taper Forum.  He returns to the play as director after earning a Tony nomination for his performance as Vanya, the role he originated in Durang's play. Mr. Pierce's film credits include Little Man Tate, Sleepless in Seattle, Nixon, Down With Love, and the Sundance Film Festival Selection, The Perfect Host.  Pierce is a longtime supporter of the Alzheimer's Association, advocating for Americans with Alzheimer's disease.
CHAIR
Lucia Hwong Gordon
HONORARY CO-CHAIRS
Sallie Bingham, Tina Chen, Bonnie Pfeifer Evans, Annette Green

CO-CHAIRS
Jennifer Chambers, Susan Ciminelli, Cassandra Del Viscio, Wendy Federman, Linda Healey, Michelle-Marie Heinemann, Paul Kim, Donald J. Loftus, Joy Marks, Pamela Morgan, Arlene Scanlan, Cassandra Seidenfeld, Lisa Simonsen, Andrea Warshaw-Wernick

BENEFIT COMMITTEE
Christine Mortimer Biddle, Paola Bacchini Rosenshein, Laura Zambelli Barket, Lady Liliana Cavendish, Anne Chaisson, Kathleen Chalfant, Bruce Cohen, Stacey Cooper, Julie Crosby, Countess Luann de Lesseps, Fe Fendi, Angelina Fiordellisi, Sara Herbert Galloway and Barry Klarberg, Nurit Kahane Haase, Tania Higgins, Kathryn and David Henry Hwang, Armistead Johnson, Cheri Kaufman, Casey Kemper, Jeanine Jeo-Hi Kim, Karen Klopp, Marcia Gail Levine, Maribel Lieberman, Jennifer and Stephen Maguire, Kathryn C. Mayer, Montserrat Mendez, Chau-Giang Thi Nguyen, Laura Pozvolska Nicklas, Maggie Norris, Barbara and Peter Regna, Muna Rihani and Ambassador Nassir Abdulaziz Al-Nasser, Michele Rella, Denise Rich, Lauren Day Roberts, Sheila Rosenblum, Sandra Rosenthal, Noreen and Peter Thomas Roth, Adrienne Saldaña, Jean and Martin Shafiroff, David Singleton, Dara Sowell, Tina and David Storper, Barbara and Donald Tober, Lauren Vernon, Tia Walker, Debra and Gregg Wasser, Carole Bellidora Westfall, Barbara Winston, Deborah Zeigler