Recent Event: DEAR MISS BISHOP
WP Theater & Farrar, Straus and Giroux present
DEAR MISS BISHOP:
Poets in Conversation with Sarah Ruhl's DEAR ELIZABETH
NOVEMBER 7, 21, 28 & December 5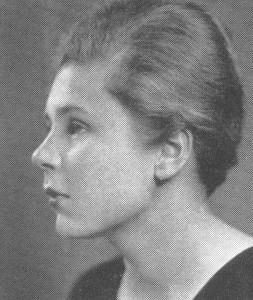 FREE and OPEN to the Public (reservations required)
DEAR MISS BISHOP: Poets in Conversation with Sarah Ruhl's Dear Elizabeth is a series of conversations with important contemporary poets  in conjunction with the current presentation of Sarah Ruhl's DEAR ELIZABETH, now playing at the WP's new artistic home, the McGinn/Cazale Theater.
On Saturdays at 4:30pm immediately following the matinee performance, the series will feature  in depth conversations with Guggenheim Fellow Saskia Hamilton (November 7) interviewed by DEAR ELIZABETH cast member Peter Scolari, poet Maureen McLane (November 21) interviewed by DEAR ELIZABETH cast member Ellen McLaughlin, Pulitzer Prize winner Paul Muldoon (November 28) interviewed by DEAR ELIZABETH playwright Sarah Ruhl and acclaimed author and professor of Psychiatry Dr. Kay Redfield Jamison (December 5) interviewed by Professor of Child and Adolescent Psychiatry Dr. Anthony Charuvastra.
SCHEDULE OF EVENTS
SATURDAY, NOVEMBER 7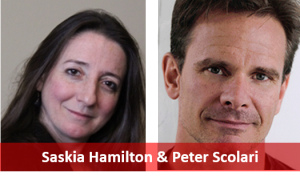 Saskia Hamilton, Poet, Editor, Words in Air: The Complete Correspondence Between Elizabeth Bishop and Robert Lowell
Interviewed by Peter Scolari, Award-winning Actor, Lucky Guy, HBO's "Girls"
ABOUT SASKIA HAMILTON
Born in Washington, DC, poet Saskia Hamilton earned a BA at Kenyon College and an MA at New York University. Her poetry collections include Canal: New and Selected Poems (2005), Divide These (2005), and As for Dream (2001). She co-edited Words in Air: The Complete Correspondence Between Elizabeth Bishop and Robert Lowell (2008) with Thomas Travisano and edited The Letters of Robert Lowell (2005). Her work also appears in the anthology Joining Music with Reason: 34 Poets, British and American (2010). Hamilton's poems often use repetition and pattern, as well as punctuation, to trace the passages and intersections of multiple points of view and states of consciousness. "A formal tone, which incorporates a measure of discipline, distance, or restraint, creates particular complications, and the irony of Saskia Hamilton's poetry rests in how her language, superficially clean and direct, navigates them so ably," noted Raymond McDaniel in the Boston Review. "Hamilton's writing has been called spare and delicate," McDaniel continued, "but neither of these quite gets at the effect of her poems, which are delicate only in the way a suspension bridge is: neither is marked by unnecessary ornament or fragility, and it would be a mistake to regard either as anything other than rigorously tough." Hamilton's honors include fellowships from the National Endowment for the Arts, the Guggenheim Foundation, and the Radcliffe Institute for Advanced Study. She has served on the staffs of the Folger Shakespeare Library and the Lannan Foundation. An editor for the journal Literary Imagination, Hamilton has taught at Barnard College, Kenyon College, and Stonehill College. She lives in New York City.
ABOUT PETER SCOLARI
(Robert Lowell in WP's Dear Elizabeth) Broadway/NY: Hairspray, Sly Fox, Magic Bird, Out of This World, Ziegfeld Follies of 1937 (City Center Encores!), World Premiere of A.R. Gurney's Family Furniture, Lucky Guy. Regional: World Premieres of Daniel Sullivan's Inspecting Carol, Ken Ludwig's Fox on The Fairway at The George Street Playhouse. Winner Best Actor, Berkshire Theater Festival for The Foreigner. VQT Emmy Award Winner for "Newhart", Three Time Emmy Nominee, Film Critic's Award Nomination as Best Featured Actor for "Girls" (HBO), recurring on "Gotham", also "Bosom Buddies", "Honey, I Shrunk the Kids", "The West Wing", "E.R.", "Family Ties", "White Collar", "King of Queens", "Reba", "Ally McBeal", "From the Earth to the Moon" (HBO), "Stop the World, I Want to Get Off" (Showtime). Selected Film: That Thing You Do, Polar Express, Suburban Girl, Camp Nowhere, The Ryan White Story, and upcoming Madoff for ABC films.
SATURDAY, NOVEMBER 21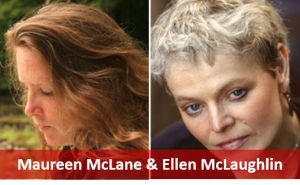 Maureen McLane, Poet, World Enough, Same Life
Interviewed by Ellen McLaughlin, Playwright, Actor, String of Pearls, Angels in America
ABOUT MAUREEN MCLANE
Maureen N. McLane grew up in upstate New York and was educated at Harvard, Oxford, and the University of Chicago. She is the author of World Enough (2010), and Same Life: poems (2008); and This Blue (2014); as well as the poetry chapbook, This Carrying Life (2006). She has also published two books of literary criticism, Balladeering, Minstrelsy, and the Making of British Romantic Poetry (2008) and Romanticism and the Human Sciences (2000), and co-edited The Cambridge Companion to British Romantic Poetry (2008). Her book, My Poets (2012)-an experimental hybrid of memoir and criticism-was a finalist for the 2012 National Book Critics Circle Award in autobiography. World Enough was named one of 2010's Five Best Poetry Books by Library Journal and one of the year's 10 Best Books of Poems by Paul Muldoon in The New Yorker. Same Life-finalist for both The Lambda Literary Award and The Publishing Triangle Audre Lorde Award-was also named one of the year's best books by the Chicago Tribune. This Blue is a finalist for the National Book Award. A contributing editor at Boston Review and poetry editor at Grey, she has published widely on poetry, contemporary fiction, and sexuality in the New York Times, the Chicago Tribune, Boston Review, the Washington Post, American Poet, and elsewhere. In 2003 she won the National Book Critics Circle's Nona Balakian Award for Excellence in Book Reviewing. Currently an associate professor of English at NYU, she has taught at Harvard, the University of Chicago, MIT, and the East Harlem Poetry Project.
ABOUT ELLEN MCLAUGHLIN
(Elizabeth Bishop in WP's Dear Elizabeth) Acting work includes originating the part of the Angel in Angels in America, playing the role in workshops and regional productions through its Broadway run in 1993-1994. Other favorite work includes the Homebody in Bart Sher's production of Homebody/Kabul (Intiman, Seattle, WA), Pirate Jenny in A Threepenny Opera (Trinity Rep. Elliot Norton Award), Claire in Albee's A Delicate Balance, (Arena Stage, Yale Repertory Theater), Margie in Good People (George St. Playhouse. Seattle Rep.) and Rosemary in Outside Mullingar (George St. Playhouse.) New York credits include: String of Pearls (Primary Stages), Blue Window (Manhattan Theater Club), and A Bright Room Called Day (Public Theater). Television work includes several appearances on "Law and Order". McLaughlin is also a playwright.
SATURDAY, NOVEMBER 28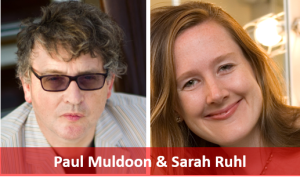 Paul Muldoon, Pulitzer Prize winning Poet, Poetry Editor, The New Yorker, One Thousand Things Worth Knowing
Interviewed by Sarah Ruhl, Playwright, Dear Elizabeth, The Clean House 
ABOUT PAUL MULDOON
Paul Muldoon is an Irish poet and professor of poetry, as well as an editor, critic, and translator. Muldoon is the author of twelve major collections of poetry, including One Thousand Things Worth Knowing (2015), Maggot (2010), Horse Latitudes (2006), Moy Sand and Gravel (2002), Hay (1998), The Annals of Chile (1994), Madoc: A Mystery (1990), Meeting the British (1987), Quoof (1983), Why Brownlee Left (1980), Mules (1977) and New Weather (1973). He has also published innumerable smaller collections, works of criticism, opera libretti, books for children, song lyrics and radio and television drama. His poetry has been translated into twenty languages. Muldoon served as Professor of Poetry at Oxford University from 1999 to 2004. He has taught at Princeton University since 1987 and currently occupies the Howard G.B. Clark '21 chair in the Humanities. He has been poetry editor of The New Yorker since 2007. In addition to being much in demand as a reader and lecturer, he occasionally appears with a spoken word music group, Rogue Oliphant. Paul Muldoon is a Fellow of the Royal Society of Literature, the American Academy of Arts and Sciences and the American Academy of Arts and Letters. In addition to the Pulitzer Prize, he has received an American Academy of Arts and Letters award in literature, the 1994 T. S. Eliot Prize, the 1997 Irish Times Poetry Prize, the 2003 Griffin International Prize for Excellence in Poetry, the 2004 American Ireland Fund Literary Award, the 2004 Shakespeare Prize, the 2005 Aspen Prize for Poetry, and the 2006 European Prize for Poetry. He has been described by The Times Literary Supplement as "the most significant English-language poet born since the second World War."
ABOUT SARAH RUHL
Sarah Ruhl's plays include The Oldest Boy, In the Next Room, or the vibrator play, The Clean House, Passion Play, Dead Man's Cell Phone, Melancholy Play; Eurydice; Orlando, Late: a cowboy song, Dear Elizabeth and Stage Kiss. She has been a two-time Pulitzer prize finalist and a Tony award nominee. Her plays have been produced on Broadway at the Lyceum by Lincoln Center Theater, off-Broadway at Playwrights' Horizons, Second Stage, and at Lincoln Center's Mitzi Newhouse Theater. Her plays have been produced regionally all over the country, often with premiers at Yale Repertory Theater, Berkeley Repertory Theater, the Goodman Theater, and the Piven Theatre Workshop in Chicago. In 2014 she was the second most produced playwright in the country. Her plays have also been produced internationally and have been translated into over twelve languages. Originally from Chicago, Ms. Ruhl received her M.F.A. from Brown University where she studied with Paula Vogel. She has received the Susan Smith Blackburn award, the Whiting award, the Lily Award, a PEN award for mid-career playwrights, and the MacArthur "genius" award. You can read more about her work on www.SarahRuhlplaywright.com. Her book of essays 100 Essays I Don't Have Time to Write was published by Faber and Faber last fall. She teaches at the Yale School of Drama, and she lives in Brooklyn with her family.
SATURDAY, DECEMBER 5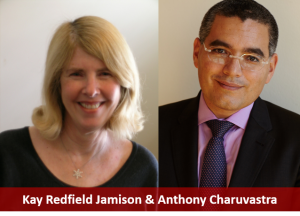 Dr. Kay Redfield Jamison, Psychiatrist, Author, Educator, Touched With Fire, An Unquiet Mind
Interviewed by Dr. Anthony Charuvastra, Clinical Assistant Professor, NYU Department of Child and Adolescent Psychiatry 
ABOUT KAY REDFIELD JAMISON
Kay Redfield Jamison is the Dalio Family Professor in Mood Disorders, Professor of Psychiatry at the Johns Hopkins University School of Medicine, and co-director of the Johns Hopkins Mood Disorders Center.  She is also Honorary Professor of English at the University of St. Andrews in Scotland.   She is co-author of the standard medical text on manic-depressive (bipolar) illness, which was chosen as the most outstanding book in biomedical sciences by the American Association of Publishers, and author of Touched with Fire, An Unquiet Mind, Night Falls Fast, Exuberance, and Nothing Was the Same.  Dr. Jamison has written more than 125 scientific and clinical articles about mood disorders, suicide, creativity, and lithium.  Her memoir, An Unquiet Mind, which chronicles her own experience with manic-depressive, or bipolar illness, was on The New York Times bestseller list for five months and translated into thirty languages. Night Falls Fast: Understanding Suicide was a national bestseller and selected by The New York Times as a Notable Book of 1999. Exuberance: The Passion for Life was selected by The Washington Post, The Seattle Times, and The San Francisco Chronicle as one of the best books of 2004 and by Discover magazine as one of the best science books of the year. Her most recent book, Nothing Was the Same, was chosen by The Washington Post as one of the best books of 2009.  Dr. Jamison is a Fellow of the American Academy of Arts and Sciences and the recipient of numerous literary and scientific awards, including the Lewis Thomas Prize, the Sarnat Prize from the National Academy of Medicine, and a MacArthur Fellowship.  Her most recent book is about Robert Lowell, which will be published by Knopf in early 2017.
Recognized by NPR as one of "their all-time favorite books," read a review of Jamison's bestselling classic, An Unquiet Mind, at NPR Books.
ABOUT ANTHONY CHARUVASTRA
Dr. Charuvastra received his undergraduate and medical degrees from Brown University, completed his adult psychiatry training at UCLA-West Los Angeles, and his child and adolescent psychiatric training at the NYU Child Study Center. Dr. Charuvastra also completed a 2 year NIMH post-doctoral research training fellowship at the NYU Child Study Center, focusing on Trauma and Resilience in adults and children.
While in medical school, Dr. Charuvastra worked in hospital and prison based HIV clinics while studying addiction. At UCLA, he spent a great amount of time in specialty clinics for Women's Health (reproductive psychiatry), Bipolar Disorders, Schizophrenia, Family Therapy, Interpersonal Psychotherapy for Depression, and Cognitive Therapy for Anxiety and Depression. At NYU, he developed expertise in treating Attention Deficit Hyperactivity Disorder (ADHD), Oppositional and Disruptive behavior, Depression, Post-Traumatic Stress Disorder and Anxiety in children and adolescents. Dr. Charuvastra has also had training in administering the Autistic Disorders Observation Scale (ADOS) and has worked extensively with children on the Autistic Spectrum.
Awards: the Isaac Ray award from Brown Medical School, the Rock Sleyster award from the AMA, the Shirley Hatos 21st Century prize from UCLA, and fellowships with the American Psychoanalytic Association and the Group for the Advancement of Psychiatry. .
Assistant Professor at New York University Medical Center in the Department of Child and Adolescent Psychiatry.