Artist Vignettes with JACKIE Wig & Wardrobe Supervisor Genavieve White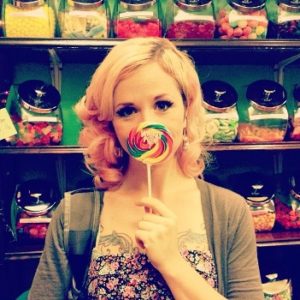 We caught up with Jackie wig & wardrobe supervisor, Genavieve White, and asked her to share a few of her favorite things with you…
Favorite NYC pastime:
When the weather's not having a fit, I love biking around the city. It's cheap, scenic and no sudden service changes.
Best neighborhood restaurant:
Jimmy's Diner in Williamsburg is a great little hole in the wall that's staying strong while condos sprout up around it. The wait staff are rad, and with a dish called 'the hangover helper' you can't really go wrong.
Cocktail hotspot:
I'm a dive bar girl myself, but I really like the Japanese 'speakeasy' Angel's Share on 9th and 3rd. It's tiny and can be packed, but if you can get a spot at the bar and watch the bartenders do their stuff it's totally worth it.
Theater that's inspired you lately:
I don't know about recently, but I grew up in Atlanta, and the Fox theater was a huge inspiration for me getting into theater. The building itself was just as much a draw as whatever was playing.
Who's on your fantasy dinner party guest list?
The nerd side of me is going crazy for this question. I'd definitely have to include Carl Sagan, cosmologist extraordinaire, Don Bluth, animator and filmmaker, H.R. Giger, surrealist painter and sculptor, and Dio, metal legend.
What's on your playlist for walking around NYC?
That really depends on the season. Winter is exclusively classical, and mostly Tchaikovsky. With the cold air and the lights of the city it makes you feel pretty epic. Summer is a lot of female vocals mixed with metal. Ladyhawke, Rilo Kiley, Dio, Iron Maiden.
Dream holiday destination:
Iceland is top of the list. Glaciers and volcanos in the same spot? Done.
A quote you love:
Not a philosophy, just a love for the imagery:
"She took a hefty swig of her Bloody Mary and brooded silently for a moment while the vodka marched around inside her." – Douglas Adams, A Long Dark Teatime for the Soul

What are 5 facts about you that would surprise your theater friends?
1. I own land on a wild horse ranch in Wyoming
2. I was a NY cabbie
3. I just started a line of silicone infused clothing called Candy Drip.
4. I've had over 60 piercings in my life
5. I'm a classically trained oboist
Genavieve White kept Tina Benko perfectly coiffed and dressed as JACKIE by Elfriede Jelinek, WP 2012/13 Season. Favorite credits include: IVANOV, A MIDSUMMER NIGHT'S DREAM, CHERRY ORCHARD, SCHOOL FOR LIES (Classic Stage), FENG YITING (Lynch Theater LCF), CHANCE ENCOUNTERS (New World Stages), DIE FLEDERMAUS (Hamilton Opera).