GET TO KNOW: ZAINAB JAH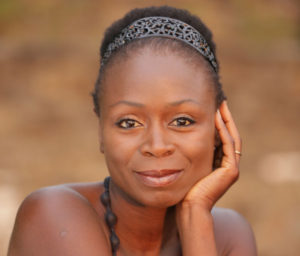 Starring as Katey in Stuffed, award-winning actress Zainab Jah's recent credits include: Maima, Eclipsed, Broadway; title role of Hamlet, (The Wilma Theatre), A Midsummer Night's Dream, Romeo N Juliet (Classical Theatre of Harlem),  The Loneliness of the Long Distance Runner, (Atlantic Theater, NYC),  Prudence The Convert, Josephine, Ruined,  A Doll's House ( Williamstown Theatre Festival), Helen of Troy, Trojan Women, (Classical Theatre of Harlem), In Darfur, (The Public Theatre /NYSF), Peter Sellars' Children Of Herakles, ( European Tour). Film / TV credits: New York, I Love You (Short),  "Law & Order SVU," Outliving Emily (with Andre Braugher and Philicia Rashad), Along Came Love, with Vanessa Williams. Awards: Philadelphia Critcs' Circle Best actress Award (Hamlet ) Los Angeles Stage Alliance Ovation Award Best Featured Actress (The Convert); San Francisco Bay Area Critics' Circle – Outstanding Performance Female Featured Role (Ruined); and Best Featured Actress, Philadelphia Critics' Circle Featured Actress Award (The Convert).
---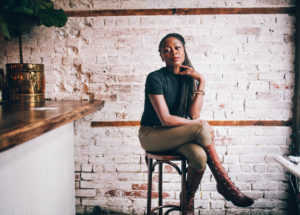 In "Eclipsed," which begins previews Feb. 23 at the Golden Theater,Zainab Jah plays Maima, an AK-47-toting soldier who has given herself the name Disgruntled. But one evening at a South Brooklyn bistro, plates of oysters arrayed before her, Ms. Jah seemed content. "I'm greedy," she said, with enthusiasm and without apology.
A self-described "fitness fanatic" who declined to give her age ("I don't tell; I'm a lady," she said), Ms. Jah is slim and not quite 5-foot-2, but with her plumb line posture, coiled braids and forceful energy, she looms larger. Especially when she's holding a machine gun. Onstage, in Danai Gurira's play about women entangled in a civil war in Liberia, she is incandescent, fierce and gentle, moving with tenacious grace. Offstage, the wattage is only a little dimmer. She even manages to slurp oysters with poise.
Born in England, she spent her first 10 years with a grandmother in Sierra Leone before joining her parents, both doctors, in England. It was that grandmother who first introduced her to theater, recruiting her for a church troupe called Christ's Little Band.
Despite pressure from her parents to pursue medicine or law, she trained as a dancer and worked happily for several years before she began craving another form of expression. "I just sat up in bed and said, 'I want to be an actor,'" she said.
Initially, directors would cast her only in Greek tragedies or Shakespeare. But she expanded her repertoire with a number of plays set in Africa, like Lynn Nottage's "Ruined" and Ms. Gurira's "The Convert."
She first played Maima in 2009, rejoining the play Off Broadway last year, just after wrapping the title role of "Hamlet" at the Wilma Theater in Philadelphia. (Word of warning: For her art, Ms. Jah has learned to fire an automatic weapon and wield a sword. Stay on her good side.)
Her approach to character is rigorous and largely physical, a holdover of the dance training. "It's always instinctive before it becomes intellectual," she said. She thinks of Maima as a little Yorkshire terrier. "They're always the first to attack the big dogs in the street," she said.
While working on the play, she can't let Maima go. After a rehearsal, she'll get dressed, go home and watch documentaries about Liberia. "I don't know whether it's because I'm African myself, but I have to give such a completeness to these characters," she explained. "I feel I will do them a disservice by not living in them full time."
 Ms. Jah isn't sure what she'll do once "Eclipsed" closes in June. Maybe she'll move to Jamaica and sell ice cream, she said, maybe she'll turn to TV and film. She'd like to do a horror movie: "Run through the woods, scream," she said with a laugh. Those monsters don't stand a chance.
© 2016 The New York Times Company