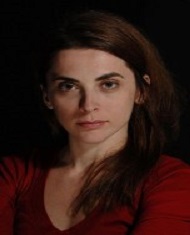 Tea Alagic
(Director) Tea is a director, writer, and actor. Her directing credits include Events with Life's Leftovers by Alberto Villarreal Diaz (Mexico City, Dramafest), Laughing Pictures a Hollywood Odyssey by Matthew Maguire (Fordham University, New York), St. Joan
by George Bernard Shaw (NYU), Zero Hour by Tea Alagic (Yale University Theater), Speaking Our Mind
(New Theater New Haven), The Brothers Size by Tarrel Alvin McCraney (The Public Theater in NYC, The Studio Theater in Washington D.C, and The Abbey Theater in Dublin), Book of Daniel by Daniel Alexander Jones (Austin University), The Donny Hathaway Story (Yale Cabaret),  Marcus Brutus by Tea Alagic (Yale Repertory Theater), and Chiang Kai Chek by Charles Mee (Yale Cabaret). During her tenure as Associate Artistic Director of the Ensemble Company for the Performing Arts (ECPA), Tea directed Woyzeck by George Buchner, Piano Plays by Friederike Roth, Self-Accusation by Peter Handke, Preparadise, Sorry Now by Rainer Werner Fassbinder, and Baal by Bertolt Brecht.  Tea also wrote and directed The Filament Cycle, which toured internationally.
As an actor, Tea has worked with Theatre du Soleil in Paris, Robert Lepage in Quebec City, and Richard Foreman in New York. She has worked on theater productions around the world, including New York, Zurich, Vienna, Cairo, Edinburgh, Toronto, Jerusalem, Singapore, Italy, Lisbon, Paris, the Royal National Theater in London, Brooklyn Academy of Music, and many others.  She received a BFA in acting from Charles University in Prague, and a MFA in directing from Yale School of Drama, where she also received the Julian Milton Kaufman Prize for Best Director in her graduating class.  Tea has been honored with a Soros Fellowship, CEC ArtsLink Performing Arts and Literature Award, and received awards at both the Cairo International Festival and the Edinburgh International Fringe Festival for Al – Hamlet Summit by Sulayman Al- Bassam, in which Tea played role of Ophelia.