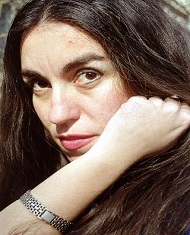 Saviana Stanescu
(Playwright) Saviana is one of the most prominent writers to have emerged from Eastern Europe after the fall of communism. She was born in Bucharest, Romania, on a cold February morning during Ceausescu's dictatorship, and "reborn" in New York in the hot days of 2001. Her plays have been widely presented internationally and in the US.  Recent New York productions include Waxing West (2007 New York Innovative Theatre Award for Outstanding Full-length Script) and YokastaS Redux at La MaMa Theatre, Flag Stories at TBG Theatre (part of Myth America Project, a collage of texts by Arthur Kopit, Theresa Rebeck, Israel Horowitz, Jason Grote, etc), Suspendida at the Ontological Theatre, Balkan Blues at the NYC Fringe Festival and the site-specific I want what you have as part of Women's Project's Girls Just Wanna Have Fund$ at the World Financial Center.
Saviana won the 2007 Marulic Prize for Best European Radio-drama for Bucharest Underground. Her short play Aurolac Blues, performed at HERE Arts Center, was published by Smith & Krauss and  Plays and Playwrights 2006. Two monologues have been published in the Playwrights' Center's Monologues for Women, and Final Countdown was produced and published in France.  She has also published six books of poetry and drama including Google me! (poetry), Black Milk (four plays) and The Inflatable Apocalypse (Best Romanian Play of the Year UNITER Award in 2000).
Saviana co-edited the anthology of plays Global Foreigners (with NYU professor Carol Martin) and roMANIA after 2000 (with CUNY professor Daniel Gerould).Her plays have recently received readings and workshops at New York Theatre Workshop, New York Stage&Film, Baryshnikov Arts Center, Playwrights' Foundation, Traveling Jewish Theatre, Immigrants Theatre Project, CUNY Grad Center, LaGuardia Performing Arts Center, and Theatre Gerard Philipe de Saint-Denis, Gare Au Theatre etc. She was a 2005-2007 TCG fellow with the Lark Play Development Center, where her plays Waxing West and Lenin's Shoe had barebones productions. Currently, Saviana is a NYSCA playwright-in-residence with Women's Project and writer-in-residence for East Coast Artists. She holds an MA in Performance Studies (Fulbright fellow) and an MFA in Dramatic Writing (John Golden Award for excellence in playwriting) from New York University, Tisch School of the Arts, where she now teaches in the Drama Department.