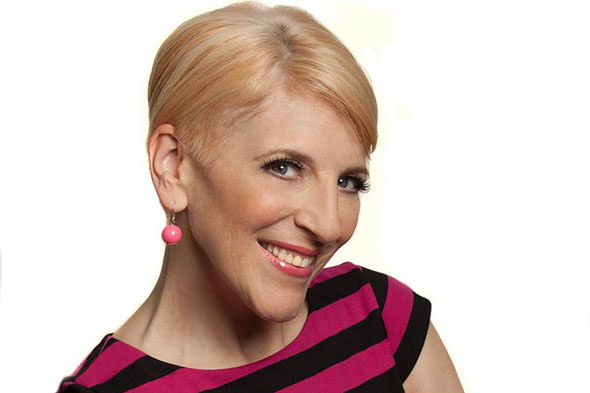 Lisa Lampanelli
(Playwright & Lisa) Lisa Lampanelli shot her fifth stand-up special, "Back to the Drawing Board," which premiered June 26, 2015 on EPIX and was nominated for a 2015 Grammy Award for "Best Comedy Album." In the special, Comedy's Lovable Queen of Mean showed off her radically different look after having lost more than 100 pounds. That weight loss, which she has maintained for over four years, inspired her to write Stuffed since, having been every size from 2 to 26, she has firsthand knowledge of the food and body-image struggle.
Lisa became a household name when she joined 17 other celebrities on the fifth season of NBC's "Celebrity Apprentice," where she advanced to the final four in the competition, raising $130,000 for her chosen charity, the Gay Men's Health Crisis. She also starred as a regular on "Bounty Hunters," CMT's first-ever animated series, and recently stole the show on an episode of CBS's "2 Broke Girls," helmed by "Sex and The City" creator, Michael Patrick King. She also was recently accepted into and attended the Yale Summer Conservatory for Actors in New Haven, CT.
Lampanelli joined the ranks of comedy greats with her 2009 HBO comedy special, "Long Live the Queen," and that same year, released her autobiography, Chocolate, Please: My Adventures in Food, Fat and Freaks (Harper Collins). Lisa was also a monthly writer for the Women column in Playboy Magazine and is a contributor to the blog for Kripalu, the world-renowned yoga and meditation retreat center.
Lisa's rise to the top of the comedy food chain began in 2002 when she was the only female comedian invited to skewer Chevy Chase on the NY Friars Club Comedy Central Roast.  She soon became known as the "Queen of the Roasts", going on to lambaste such names as Pamela Anderson, Jeff Foxworthy, William Shatner, Flava Flav, David Hasselhoff and, most recently, Donald Trump.  Due to her success as a roaster, in 2009, Lisa was asked to serve as Roastmaster for the highly rated Comedy Central Roast of friend and fellow comic, Larry the Cable Guy.
One of the few white comedians to perform on BET's "Comic View," Lisa has clearly cemented her huge crossover appeal.  She went on to appear on Comedy Central's "Last Laugh 2005" and her one-hour special that year, "Take It Like a Man," was a hit with the comedy network yet again. The CD and the DVD of the same name hit #6 on the comedy charts. Then, in January 2007, Lisa's second one-hour special, "Dirty Girl," debuted on Comedy Central and Warner Bros. Records, and reached #4 on the charts. Soon thereafter, "Dirty Girl" was nominated for a Grammy Award for 2007's "Best Comedy Album".
Lisa appeared in the David Chase-directed feature film, "Not Fade Away."  She also appeared in "Larry the Cable Guy: Health Inspector" and had a featured role in "Delta Farce," opposite Bill Engvall, Larry the Cable Guy, and D.J. Quall. She also starred in the hilarious documentary, "The Aristocrats," and played a more maternal version of herself in the Owen Wilson vehicle, "Drillbit Taylor."