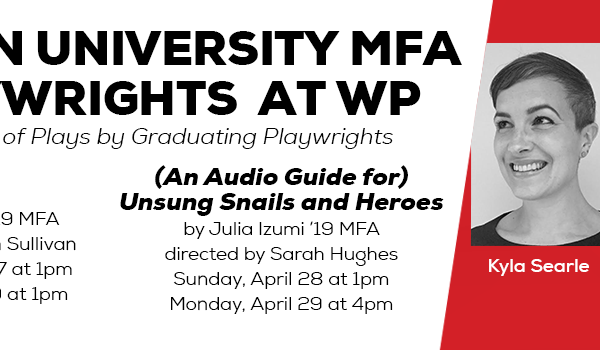 Continuing WP Theater's mission to foster the next generation of female artists, WP joins Brown University's Department of Theatre Arts and Performance Studies in a unique residency for third-year MFA playwrights Julia Izumi and Kyla Searle. As part of the Writing for Performance program at Brown University, this partnership creates a year-long vehicle for professional support and development of these graduating writers' thesis projects and opportunities for mentorship and collaboration with seasoned actors and directors. The Brown Playwrights at WP residency will culminate in spring 2019 with 29-hour industry readings of Julia Izumi's (An Audio Guide for) Unsung Snails and Heroes, and Kyla Searle's Mimi, directed by WP Directors Lab member Sarah Hughes and by Caitlin Sullivan.
This reading series is made possible through support from an endowed fund for the Adele Kellenberg Seaver '49 Professorship in Literary Arts.
Mimi 
by Kyla Searle '19 MFA
directed by Caitlin Sullivan
Saturday, April 27 at 1pm
Monday, April 29 at 1pm
Eighty-seven year old Mimi has decided to end her life but she doesn't want to do it alone. Her granddaughter Joi broke up with her girlfriend and now she's drowning in regret. How do women ask each other for help when they are at their most vulnerable? Taking place against the burning backdrop of the 1980s real estate boom in San Francisco, Mimi confronts the intimacy of pain in the lives of two mischievous women.
(An Audio Guide for) Unsung Snails and Heroes
by Julia Izumi '19 MFA
directed by Sarah Hughes
Sunday, April 28 at 1pm
Monday, April 29 at 4pm
(An Audio Guide for) Unsung Snails and Heroes is an epic yet personal play about a young girl journeying from Japan to Manchuria to retrieve her deceased father's bones in 1945, just before the end of World War II. Inspired by a true story from the playwright's family history, this beguiling play follows an ancestor snail and a self-guided audio tour to excavate the definition of heroism across generations and cultures.
Readings will be at WP's rehearsal space at 55 West End Ave. (Entrance on W.62nd street)